Faith Formation Positions Available
After 26 years of ministry in Faith Formation, and almost six years at St. Catherine's, Janis Pataky is retiring from the position of Director of Religious Education; however, she is not leaving completely, she will continue to facilitate the monthly Sunday Family Program.

Deacon Lou Howe will assume the position of Director of Religious Education; his area of concentration will still be grades 6-9.

We are searching for a full-time Coordinator of Religious Education for grades 1-5 and also a part-time Youth Minister/Confirmation Coordinator who will facilitate a middle school and high school youth group and will be working with Deacon Lou on the Confirmation Program. Both positions assume previous experience.

Please see these job descriptions: Coordinator of Religious Education and Youth Minister/Confirmation Coordinator.

If you are interested in applying for either of these positions, please email your resume to This email address is being protected from spambots. You need JavaScript enabled to view it..




2018 WEDDING JUBILEE MASS AND CONCERT
Sunday, April 29, 20183:00 p.m.
St. Theresa Parish in Trumbull

This Mass is for couples celebrating 25, 30, 35, 40, 45 and 50+ year wedding anniversaries. Photos with Bishop Caggiano will take place before Mass begins, at 2:30 p.m. Every participating couple will receive a complimentary photo sent via US Mail to each parish for distribution. As a special gift to those celebrating anniversaries, the Mass will be immediately followed by a free concert by the Diocesan Youth Choir. A reception will follow the concert for all couples, their families, and choir members.

Space is limited, so please register by April 18, 2018 at www.formationreimagined.org/ and scroll down to find the link for the wedding jubilee.




St. Catherine of Siena Support Circle






"The First Impression. The Handshake. And What's Next." - April 19, 2018

"The Corner Office Perspective 7.0" - May 23, 2018

Visit our page for more information about these two exciting upcoming events!
Social Justice - Dinner with A Cause
Walking With Purpose - Morning Reflection
Carnival of Fun (July 10 - 14, 2018)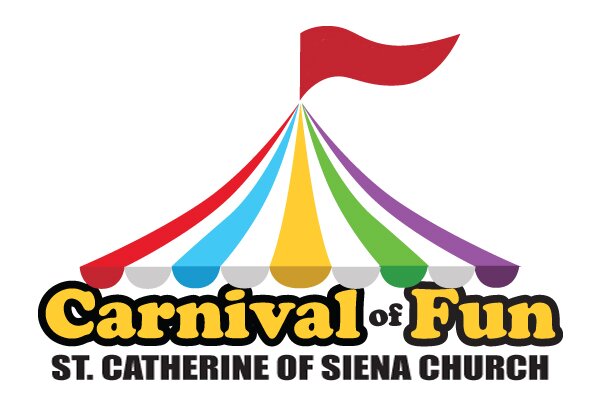 There will be fun for the whole family including rides, food, games and entertainment!
Raffle tickets will be available soon!


*1st prize: $30,000 AMEX Gift Card
*2nd prize: $5,000 AMEX Gift Card
*3rd prize: $3,000 AMEX Gift Card
*4th prize: $500 Aux Delices Gift Card
*5th prize: Mohegan Sun Getaway
*6th prize: Giant Revel Mountain Bike

We were listening and we heard you. What could you do with an extra $30,000?
Think about it and then pick up some raffle tickets! Buy some for friends and co-workers, Mother's Day, Father's Day, birthday or graduation gifts.
For more information, please contact: Betsy Parker, Raffle Chair, at This email address is being protected from spambots. You need JavaScript enabled to view it.
stcatherineofsienacarnival
StCatherineofSienaCarnival
Spring Concert Series Event
Join our Festival Choir for "An Evening with Papa Haydn"
Saturday, April 28, 2018 at 7:30 p.m.
St. Catherine's Scholarships
Attention all graduating high school seniors!
Applications for the 2018 scholarships are now available
HERE
.

The St. Catherine of Siena Scholarship Fund provides scholarships and awards to graduating high school seniors who have demonstrated academic excellence and leadership skills through their participation in church, school and community service activities. These scholarships will be awarded based on the student's participation, and not on family history of participation now or in the past. The scholarships and awards are funded by contributions from individual parishioners and corporate donors to the St. Catherine Scholarship Fund.
Please direct any questions to Deacon Lou Howe at This email address is being protected from spambots. You need JavaScript enabled to view it..
Completed applications must be postmarked no later than May 1, 2018.


Meditation Group
Thursday evenings
7:00 – 7:30 p.m. in the chapel
Your time to be still, to invite God into your heart,
to heal, to rest in God.
Meditation is a gift to the self…
Come take care of yourself.
Adoration of the Blessed Sacrament
Join us each First Friday of the month for a period of Adoration of the Blessed Sacrament immediately following the 5:15 p.m. Mass in the Chapel. The period of Adoration will last one hour and will conclude with Benediction of the Blessed Sacrament.
Join one of our Choirs!
The choirs of St. Catherine of Siena Church begin a new season on Sunday, September 10.
Traditional Choir -- sings at the 10:30 a.m. Mass on Sundays under the direction of Dr. Liya Petrides. The Choir also performs two concerts per season. Experienced singers in all voice sections are welcome.
Contemporary Choir -- sings at the 9:00 a.m. Mass on Sundays under the direction of Ms. Rita Lapcevic. Singers and instrumentalists of all ages are welcome. No experience necessary.
Cherub Choir -- sings once or twice a month under the direction of Ms. Tracy Martineau at the 9:00 a.m. Mass on Sundays. This choir is for our youngest singers.
Youth Choir -- sings at the 5:00 p.m. Mass on Sundays under the direction of Dr. Liya Petrides and Dr. Ron Petrides. The choir is open to all high-school singers and instrumentalists.
Please see our music page for more information or contact Dr. Petrides at This email address is being protected from spambots. You need JavaScript enabled to view it..